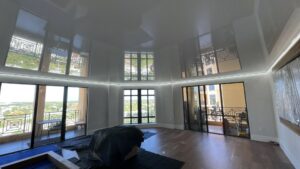 Shiny - Reflective - Glossy Ceilings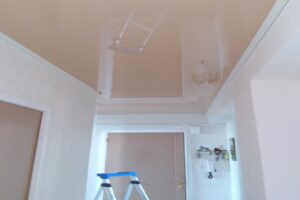 If you're looking to enhance the visual appeal of your ceiling, then the « OneStretchCeiling » is definitely worth a consideration. Not only is it a practical choice, but it also adds a touch of elegance and sophistication to any room. With its mirror effect, the ceiling creates an illusion of more space, making it ideal for small rooms, hallways, bathrooms, indoor pools, or any poorly lit area.
The « OneStretchCeiling » also offers a diverse range of colors, meaning you can customize it according to your interior design style. What's more, its glossy finish is designed to last over 35 years with minimal maintenance, making it a smart long-term investment.
It's important to take into account your preferences and installation conditions when deciding if this option is the right fit for you. Nevertheless, the « OneStretchCeiling » Glossy remains a popular and alluring choice for anyone looking to upgrade the look and feel of their ceiling.
Satin Finish and Stretch Ceiling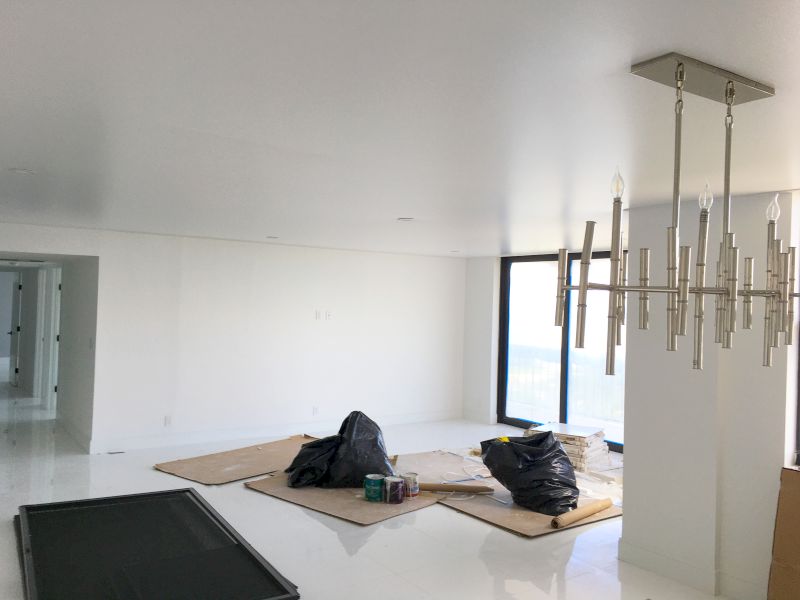 Stretch ceilings with a satin finish have become increasingly popular in recent years for many good reasons. When you add a satin finish from « OneStretchCeiling » to stretch ceilings, you are creating an amazing effect that adds an extra touch of sophistication to your space. The sleek and slightly glossy texture of the satin finish looks elegant, with a touch of class and refinement that can really elevate the aesthetic of any room.

The satin finish is also incredibly versatile, complementing a broad range of interior design styles, whether it is modern or classic. Additionally, this finish is an excellent way to brighten up your space by spreading light evenly and creating a calming atmosphere. On top of all that, the satin finish is also easy to clean and long-lasting, which makes it a smart and practical choice for both homes and businesses alike.

So if you're looking for a beautiful and stylish addition to your ceiling, then stretch ceilings with a satin finish from « OneStretchCeiling » are the perfect choice!
Matte finish Stretch Ceiling
OneStretchCeiling is a versatile solution that caters to everyone's style preferences and needs. The ceiling comes in a wide range of distinct colors that can match any design scheme and enhance the overall aesthetic appeal of a room. These colors are available in both solid and vivid tones, matte or glossy finishes, and even metallic and pearlescent options. This variety guarantees that you can achieve the perfect contemporary or luxurious look that you desire for your space.

The design possibilities are endless, thanks to the customization option, which enables greater flexibility in the creation of seamless integration with the interior design scheme. Furthermore, the product's ability to add ambiance to the room is enhanced by opalescent and translucent colors that create a subtle diffused lighting effect.

It's important to note that depending on the manufacturer or supplier of the ceiling material, there may be slight variations in the available color range. However, our expert consultants will provide you with detailed information and options that cater to your specific needs. Overall, OneStretchCeiling is ideal for anyone looking to create stunningly beautiful spaces with an aesthetic feel that matches their style and taste.
Explore different colors for your stretch ceilings.