Ways to use Printed Stretch Ceilings.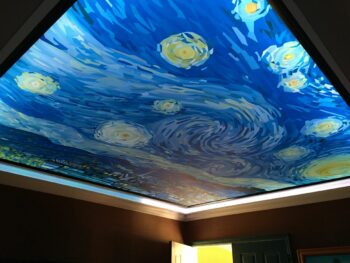 If you are looking for a truly unique and versatile stretch ceiling solution for your interior design project, look no further than the « OneStretchCeiling » printed membrane. This product offers a timeless and classic appearance with its Matt or Satin finish options that are perfect for catering to diverse preferences and design objectives. With its translucent variant, the « OneStretchCeiling » can create an ethereal and captivating atmosphere through illumination from behind the printed design. This product is perfect for decorating luxurious living rooms, creating a unique visual identity for a restaurant, or creating impactful backdrops for event-driven structures.

The « OneStretchCeiling » printed membrane is not just an interior design solution, it is also a powerful means of communication, allowing you to create the atmosphere and desire you desire. With its fusion of artistry and technology, this product expands the boundaries of interior design possibilities, offering artistic expression and visual allure that elevates spaces to new heights, whether it's for residential, commercial, or hospitality spaces. Don't miss out on the opportunity to infuse your space with its unique character and charm with the « OneStretchCeiling » printed membrane.