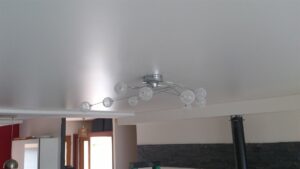 Are you looking for a way to give your living or work space a sophisticated and modern upgrade? If yes, then we have got the perfect solution for you! OneStretchCeiling has the most stylish and eye-catching stretch ceiling system that will transform your plain ceiling into an extraordinary and fascinating centerpiece. Their stretch ceiling system has a stay-at-home luster that will add an extra touch of luxury that will enhance your space's appearance.

The OneStretchCeiling's satin membranes offer a perfect combination of both matte and shiny finishes, making them perfect for any interior design style. The satin surface is velvet soft, like silk, which enhances its captivating and charming beauty. Furthermore, they diffuse light evenly throughout the room and eliminate glare from overhead lighting fixtures, offering a soft and comfortable atmosphere.

Not only do the satin stretch ceilings look beautiful, but they are also soundproof, fireproof, and are not affected by moisture damage. Additionally, these stretch ceiling systems can effectively hide any ceiling imperfections and provide insulation, making them a practical and efficient solution for making your space look and feel amazing. With OneStretchCeiling, you'll get a high-quality product that will deliver lasting value and satisfaction, leaving an impressive statement on your guests.